Buy Instagram Explore Page Services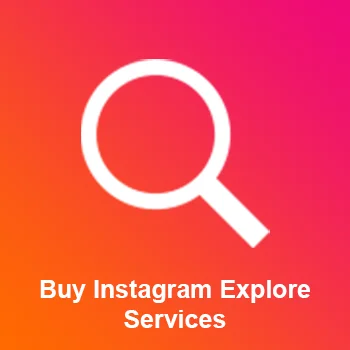 Buy Instagram Explore Page Services
Buy Instagram Explore Services with
Instant Delivery
Price Starts From:
$23.00
Features
Buylike Instagram Explore Services Features
💎 Explore Services Quality
Have an HQ accounts
💲 Explore Services Price
Starting at $23
⏳Start Time
Super Instant
⏱ Support
24/7 Live
⭐️ Guarantee
Delivery & Refund
🎯 How to buy
Secure Payments
Description
Buy Instagram Explore Services
You may not believe it, but by purchasing Instagram Explore, you can send any post you want to the Explore page. By entering Explore, you can gradually see an increase in engagement and an increase in your impression and rich page. To get the Explore service, remember to put your page in the business model so that you can see the Explore statistics. Because otherwise this statistic will not be displayed to you.
What is an Instagram Explore page?
What is an Explore page? This is a question that many are struggling with these days. When you open the Instagram page, you see a magnifying glass. This magnifying glass is exactly where the most popular posts are located. The posts displayed in this section are based exactly on your interests. Your interest is posted with the content of what you liked or visited and… you should know that the Instagram algorithm is very smart.
Instagram Explore settings
If you would like to post to Explore Instagram, you should be aware of the settings that are important to Explore. For example, do not ignore hashtags. Get to know your followers and followers completely and send a post based on the needs of your followers. Identify when your contacts are online and adjust your posting time accordingly. Understand the importance of location. And finally, for convenience and to achieve the desired and faster result, you can send your post directly to this section by purchasing the Instagram Explore package.
Being seen in Explore is your golden opportunity
One of the best opportunities that any Instagram page can introduce itself to others is to place its posts on the Instagram Explore page. Being on this page is better than any ads and comments and... Because people who are interested in the type of your posts can enter your page by viewing your post. By being in explore, your impression and the rich page will increase. Your post will be displayed to those who have followed you or not.
---
FAQs
Frequently Asked Questions
Questions that may arise when buying Instagram Explore Services from Buylike.
Our services are 100% secure. Please note that we do not need to access your Instagram account to use this service. We never ask for sensitive information such as your personal information or password. To be able to use this service, all we need is your Instagram username
Sorry, this is not possible. Your account must be public during the delivery period. Once the delivery is complete, you can return it to private mode.
Going to Explore is one of the special services on the Iranian Like site. It is better to buy Instagram Explore purchase service to guarantee your entry into Explore in the early hours of posting. Not several hours or a few days later, by going to Explore, multiply your chances of entering and staying in Instagram Explore.
Buying Rich and Impression will allow you to increase the efficiency of your posts thousands of times. There are many techniques and ways to get your post to Explore. But keep in mind that it's not just about exploring posts. It is very important to keep your page and post explored. Therefore, we intend to help you grow pages and businesses by providing quality services on the Iranian Like site. By buying Rich and Instagram Impression, you can say that you will not only help to explore, but also to stay exploring your page.
Conditions
please don't buy explore services for the same post until the previous order is in progress.
The page must be public until the order is completed.
The post should not be deleted or archived.
Reviews
Thanks for review
Your comment has been submitted and will be displayed after approval.

Login to your account to chat with users.