Buy Instagram Story Link Clicks & Swipe Ups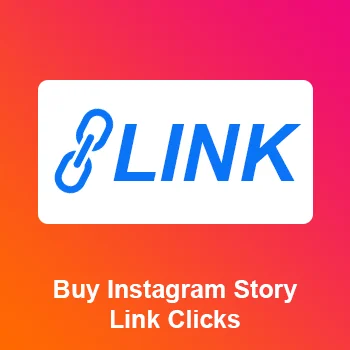 Buy Instagram Story Link Clicks & Swipe Ups
Buy Instagram Story Link Clicks with
Instant Delivery
Features
Buylike Instagram Link Clicks Features
💎 Link Clicks Quality
Have an HQ accounts
💲Link Clicks Price
Starting at $1.5
⏳ Start Time
Super Instant
⏱ Support
24/7 Live
⭐️ Guarantee
Delivery & Refund
🎯 How to buy
Secure Payments
Description
What is Instagram Stories Swipe Up and What is the Importance of Purchasing Them?
Instagram Stories Swipe Up is an exciting new feature that finally allows business users with a huge fan base to share links outside of their bio. But the number of "swipes" you get affects your post's popularity, so many people choose to buy Instagram story swipe up. This helps tell Insta's algorithm that your post is getting lots of attention, which helps get it shown to more people. Keep in mind that people spend more time watching stories than regular posts, so by boosting swipe-ups on a Stories post, you can have a better chance of gaining more attention for your content. Now you no longer have to direct people to your bio in the hopes they'll follow a link. Instead, you can ensure lots of people see your link and click on it.
Who Buys This Type of Feature and How Does it Work?
Businesses and influencers love to buy swipes in IG Story posts. Here's how it works:
You must have a confirmed business account with a minimum of 10,000 followers.
After you place your order, we get the link address by parsing all the stories from your profile.
Then we follow the link to the number of times you've ordered.
Your delivery starts right away and your order is confidential.
---
FAQs
Frequently Asked Questions
Questions that may arise when buying Clicks Link from Buylike.
Yes, this service is the safest option to visit your Instagram story links. This is because your purchase from our site causes you to click on the link only from real and legal accounts. When people get into trouble with Instagram, it 's usually because they've received a lot of clicks from bots or fake accounts.
Yes, there is no law against paying for interaction, including clicking the Instagram story link. Insta itself does not prohibit paying people to click on a link on Instagram, as long as they are real and active accounts. Instagram algorithms only have problems with robotic or fake accounts. There are no robots on our site!
No, because the increase in clicks is done by real users, neither Insta nor your followers are aware of it. Our site also keeps your order information safe.
No, because the cakes you buy are all through real and quality accounts. As long as only real accounts click on your link in Instagram stories or external sites, it does not matter if you pay for Instagram story link click service. If you know someone who has been fined, many bots are probably involved with their content or profile.
Your account must be set up publicly. You can then reset it to private if you wish.
Conditions
please don't buy story link clicks for the same story until the previous order is in progress.
The page must be public until the order is completed.
The story should not be deleted.
Reviews
Thanks for review
Your comment has been submitted and will be displayed after approval.

Login to your account to chat with users.