Buy Instagram Impressions and Reach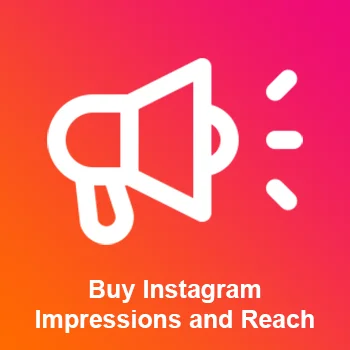 Buy Instagram Impressions and Reach
Buy Instagram Impressions and Reach with
Instant Delivery
Features
Buylike Instagram Impressions and Reach Features
💎Impressions and Reach Quality
Have an HQ accounts
💲 Impressions and Reach Price
Starting at $0.1
⏳ Start Time
Super Instant
⏱ Support
24/7 Live
⭐️ Guarantee
Delivery & Refund
🎯 How to buy
Secure Payments
Description
Instagram Impressions and Reach
Impression and Reach both mean visits to Instagram. But only pages that are business profiles publish the statistics of the two. So if you do not already have a business profile, you must first convert your profile to a Business account.
Reach: means the number of people (accounts) who have visited your post. Here we mean single accounts. For example, if an account has visited your post several times, the Rich value will be considered the same once.
Impression: The number of visits to your post is called an impression. Unlike Rich, an impression is added to your post every time a user visits your post. For example, if a user visits your post 100 times, your post impression will be added 100 times.
What is the importance of buying impressions and reach on Instagram?
You know that for your post to enter Explorer, you have to pay attention to your audience and followers. For your post to enter Explorer, the most important criteria in addition to likes and views are impression and reach. For this reason, most business pages try to increase their impression and reach. The more reach and impressions of your post, the more your post will be noticed by the audience, and this will be a guarantee to enter Explorer.
As mentioned, both parameters are the details of the Instagram post-visit, but there is a difference between impression and reach, which distinguishes them. Reach on Instagram means the number of accounts or users who view your post; That is, if a user visits a post even 10 times, 1 visit or 1 reach is considered for that post. But what is an impression?
Impression means the number of times a post is viewed; So if a user visits a post 10 times, the number of impressions of that post by the user is 10.
---
FAQs
Frequently Asked Questions
Questions that may arise when buying Instagram Impressions and Reach from Buylike.
No. We always say that we do not need to access your account. You can keep your account secure by not sharing your password.
This is not a possibility and this is a fact. However, in any case, we are always ready to compensate.
Of course. Our website is protected by an SSL certificate. Therefore, you do not need to worry about the security of your information.
After entering the number of impressions and riches, you will see the estimated delivery time of your services.
Conditions
please don't buy impressions and reach for the same post until the previous order is in progress.
The page must be public until the order is completed.
The post should not be deleted or archived.
Reviews
Thanks for review
Your comment has been submitted and will be displayed after approval.

Login to your account to chat with users.